You are here
Ariana Grande on tragic Manchester incident: 'I don't have words'
(CNN)Singer Ariana Grande is expressing her remorse following an incident at her concert in Manchester, England that left at least 22 people dead.
"Broken," the singer tweeted, hours after news broke of the deadly incident. "From the bottom of my heart, i am so so sorry. i don't have words."
Grande was physically unharmed in the event, a source close to the situation tells CNN.
The incident occurred Monday night following Grande's performance at the Manchester Arena as concert goers, many of them young children and teens, were leaving the venue, around 10:30 p.m. local time.
Nineteen people have been confirmed dead and more than 50 injured, according to the Greater Manchester Police.
Police say they are treating this as a terrorist incident until they know otherwise.
Grande's management put out a lengthier statement, saying "words can not express our sorrow for the victims and families harmed in this senseless attack."
"We mourn the lives of children and loved ones taken by this cowardly act," the statement, posted by Grande's manager Scooter Braun, added. "We ask all of you to hold the victims, their families, and all those affected in your hearts and prayers."
Grande, 23, was in town performing the first of three concerts in the UK.
Her next concert was to take place on May 25 at the O2 Arena in London.
On early Tuesday local time, the arena tweeted that it "will advise as soon as we can as to the status of those shows."
Other dates included shows in Belgium, Poland, Germany and Switzerland.
It is not known whether the tour will continue as planned.
Since opening in 1995, the Manchester Arena has welcomed acts like U2, Lady Gaga, and the Rolling Stones. With over one million visitors per year, the venue claims to be "one of the busiest venues in the world and the largest indoor arena in Europe," according to its website.
Grande's "Dangerous Woman" tour kicked off in 2016 in support of her third album, which shares the same title.
She was absent from Sunday's 2017 Billboard Music Awards because of her tour schedule.
On Friday, Grande shared a message of thanks to followers on social media in honor of her album's first year anniversary.
She wrote that she was "having the time of my life touring this album and singing it for you every night!!"
The pop singer launched her career as a teen, snagging a role in the Broadway play "13" before she landed the role of Cat Valentine on the Nickelodeon television series "Victorious."
In 2015, Grande's image was briefly tarnished after she was videotaped appearing to touch donuts in a Los Angeles shop with her tongue before making disparaging comments about the United States.
The singer tweeted an apology after the video went viral.
"I am EXTREMELY proud to be an American," she wrote. "What I said in a private moment ... was taken out of context and I am sorry for not using more discretion with my choice of words."
She offered a fuller apology later saying, "Seeing a video of yourself behaving poorly, that you have no idea was taken, is such a rude awakening, that you don't know what to do -- I was so disgusted with myself."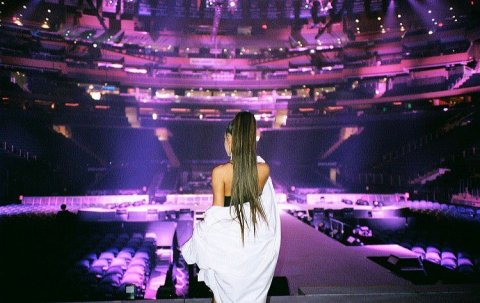 Rapper Bia, whose name is Bianca Landrau, talked to Billboard in March about opening on tour for Grande.
She called the singer "a dope soul inside and out."
"She's a beautiful person," Landrau said. "I'm just honored to be on her tour. It's an amazing show. She puts so much work in. One of the most hardest working girls I know, so it's just so amazing to see it."
The 25-year-old Latina rapper was signed to the record label of producer Pharrell Williams after being discovered on You Tube and gathered more exposure when she appeared on the Oxygen reality show "Sisterhood of Hip Hop."
Music stars, including Katy Perry, Demi Lovato, Cher and many more took to Twitter after the news was reported to send prayers and well-wishes. DJANEMAG team wants to express our sincere condolences to the families of the victims in this tragic incident. We were all so shocked by the news. All these people enjoying their idol's concert, singing, dancing, being happy! Our prayers go out to all the victims, their families and the beautiful Ariana and her team! We are with you! Music will win over evil! #Manchester Sending our love!