You are here
Interview with LOOPTOPIA Festival for asialive365
Tell us a bit about LOOPTOPIA. What's the story behind the name?
LOOPTOPIA is a portmanteau of the words "loop", our brand, and "utopia". Reason Xie, our in-house wordsmith for the past 15 years, came up with it. He is also our bookings director at theLOOP and resident DJ.
How has Taiwan's electronic music scene changed over the last five years?
Taiwan's electronic music scene has blown up and it's even taken over the pop and rock scene. The market has gotten bigger but the culture has been lost. This is mainly due to new money coming into the scene just looking for a quick smash and grab, but we're working extra hard to give the scene a potent injection of heritage and culture. To sustain longevity has always been a core value of ours.
What is the most challenging aspect of setting up LOOPTOPIA?
The hardest thing was confirming the brand concept that would last for a minimum of one decade.
Are the Taiwanese ready to rave and do on-ranch camping?
We're about to find out!
How were the lineup and headliners selected? Are locals and sponsors aware of something like the Top 100 DJ list?
Our bookings director selected headliners as much as the headliners selected LOOPTOPIA.
theLOOP have been promoting DJ Mag's TOP 100 DJ list since 2000 but the list is no longer the only factor for the audience. Taiwanese people are very relational, so the DJs who put in extra touches uniquely for the Taiwanese crowd usually get their attention and a long term following. Simply being on the list doesn't cut it anymore.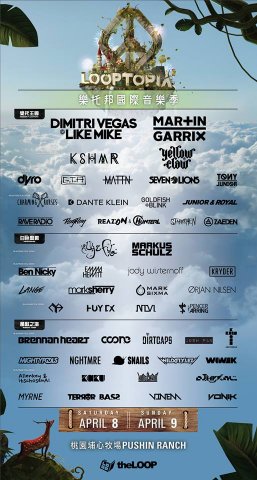 Who are the sponsors for this year's launch? How do they get involved to elevate the experience of music lovers?
So far, the confirmed sponsors are: Heineken, Pernod Ricard, Mercedes-Benz and Adidas Original. Each sponsor has their own approach to connecting and interacting with LOOPTOPIANS. We've been working very closely with each brand to come up with something unique for LOOPTOPIA.
What are the role of the government toward the live music industry. Are they supporting concert promoters?
The federal government has been overwhelmingly supportive in all cultural-related industries. The local government has been very welcoming and we're looking for a long-term partnership with them.
What is the event you're most proud of so far?
I think it's the 9th annual 2F White Party in 2014.
Surely, that's about to change! Is LOOPTOPIA the only major event theLoop will be working on in 2017?
For now we will be focused on producing LOOPTOPIA every spring and also co-produce a major festival every fall. So watch out!