You are here
Read Now! Exclusive interview with Russian duo BlondZ is ready!
Today is a special day! DJANEMAG had a talk with smart and bright girls BlondZ! This duo became a real discovery for us, girls not only provide public with music, but give a real show, including even fashion show! 
BlondZ are new era of Fashion DJs who charm the crowd not only by professional stylish DJ sets but also their unique fashion style. Being the ultimate fusion of music and fashion, they always make their appearance on scene unforgettable. This also happens because one of chili girls, Lilia Fisher, is also famous Russian millinery designer, she always amazes people with her extraordinary fantastic hats. 
Want to know more about this really unique duo? Read our exclusive interview below!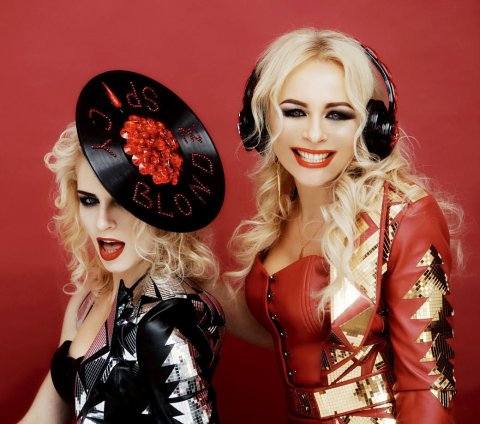 DJANEMAG: Being female DJs, how does it look like? What's the most enjoyable part of your job and the most difficult?
BlondZ: The most enjoyable part is to combine our major passions together – music, fashion and travel in our DJ project. We are two sisters, who actually complement each other perfectly. Lilia is famous Russian millinery designer who loves fashion, style, beauty latest trends and Olesya is extremely passionate about music. We enjoy this fusion of music and fashion that we mix together and we both love to travel, discover new places, new cultures, meet interesting persons. We love to inspire people with our music, to share with them our energy and to make them feel happy and free. Most difficult part is lack of time, we always want to do more, to learn more, to develop our skills and talents and it's really sad that we have only 24 hours a day! So sleep is also kind of luxury thing for us, sometimes we even don't notice this as music gives so much energy and inspiration.
DJANEMAG: Name the brightest moments of 2017 in your career and personal life! Share with the readers of the greatest achievements!
BlondZ: This year was the most successful year in our DJ career, we traveled a lot, participated in many events around the world, visited around 20 countries. We learned so much from our DJ colleagues and we feel that we are absolutely happy in what we are doing. Lilia also participated in the Russian Fashion Week and presented her millinery collections in New York, Milan, Paris and Zurich. Personal life was not so successful as professional one as we are really concentrated on our dream, probably next year it will be better.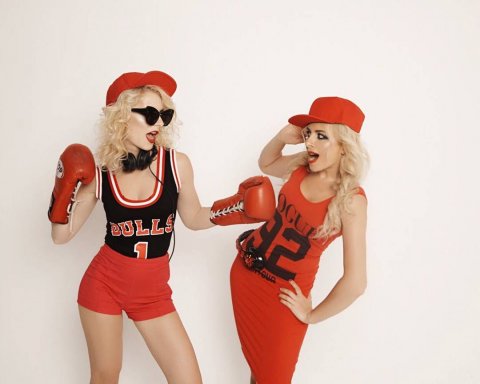 DJANEMAG: Why DJing? Whom did you want to be when you were little girls?
BlondZ: Lilia wanted to be clothes designer and Olesya wanted to be famous pianist. But parents wanted us to build successful career and have prestigious job with stable salary. So we graduated successfully from American University and got diplomas in International Relations & Politics and Public Relations & Journalism. Some years later, we understood that it is not our place to work in corporate system and returned to our passions. And it all went naturally without any enormous efforts, we think this is really our mission in life – to make people happy with our music. We think that DJs are kind of modern shamans who have the power and magic to energize and inspire.
DJANEMAG: What genre of music do you like most of all and what kind of music dominates in your sets? What do you listen in everyday life? Can you give your playlist of at least 10 tracks that are on repeat at the moment in you iPod?) Share links on your latest music releases! 
BlondZ: We are absolutely in love with the music and really like lots of different genres but the most favorite now are bass house, trap and G house.
- EDM for sure dominates in our sets, it's full of energy, drive and good vibes. However as multi format DJs we play lots of different music depending on event/audience. We found new streams, new sounds in other music genres and it helps us to make our sets more vivid, creative and unique.
- In everyday life it mostly depends on the mood, sometimes we really enjoy some Latin, Arab music, French hiphop and other unusual sounds that inspire us to create new music.
- We are happy to share our favorite 10 tracks that we enjoy the most now, they are really from different genres.
1. JETFIRE - Resistance (Original Mix)
2. Bruno Mars - Locked Out of Heaven (Sultan + Shepard Remix)
3. Malaa - Diamonds (Brohug remix)
4. Tyga – Bugatti
5. Apashe - Day Dream Feat. Splitbreed
6. The Hills (RL Grime Remix) - The Weeknd
7. LACRIM FT FRENCH MONTANA - A.W.A
8. Moby - Why Does My Heart Feel So Bad (Enrico Sangiuliano Remix)
9. Boombox Cartel - B2U (feat. Ian Everson)
10. Bobby Shmurda - Hot Nigga (Caked Up Remix)
DJANEMAG: Where do you find your inspiration?
BlondZ: The main source of inspiration is MUSIC, it is real magic universe without limits, it gives so much creative energy. New places, talented people, fashion and inner feeling that we are getting closer to our dream also motivate and inspire a lot.
DJANEMAG is a magazine dedicated to female artists, so we would like to find out some information about fashion. Your duo looks very bright! What is your attitude to fashion? 
BlondZ: We are very inspired by fashion, always follow latest trends and searching for unique original combinations. We position ourselves as new era of Fashion DJs who charm the crowd not only by professional stylish DJ sets but also with our unique fashion style. We always try our best to make appearance on scene unforgettable. And we are lucky to have Lilia, who is really talented designer and knows how to amaze people with her extraordinary fantastic hats and looks.
DJANEMAG: Are you a shopaholic, what are your favorite brands? How many clothes do you have? 
BlondZ:  We are not really shopaholics as we don't like to follow the crowd. We love to buy original clothes from young designers who have their own original views and we are also thinking to create our own Spicy brand.
WOW! 
We have lots of clothes as all ladies and as usually nothing to wear ))))
DJANEMAG: What is the most expensive and the cheapest items in your wardrobe?
BlondZ: Usually we don't buy very expensive clothes from the most famous designers as we are looking for kind of distinctive exclusive clothes. The cheapest and very fun clothes that we bought were Brazilian short skirts at Copacabana beach in Rio.
DJANEMAG: How do you cultivate your style?
BlondZ: We don't have the fashion stylist for our DJ Duo, we create our own style, and it's good that we have common vision. We love new creative ideas and unusual approach. We search for our looks in different small boutiques, Internet shops in different parts of the world, and then Lilia decorates our DJ costumes manually. So we can use our creativity to the fullest!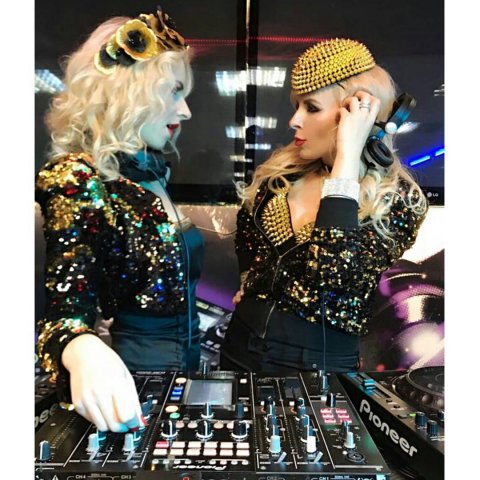 DJANEMAG: Any final words, or advice for our readers?
BlondZ: Our DJ name is SpicyBlondZ, and it has its own meaning, we encourage people to have their own "spiciness", to be unique, free and happy, to step out of the system and live life to the fullest. Dream big and never give up on your dreams, don't listen to people who limit you in any areas. You have only one life, at least one you remember, so enjoy every second and follow your heart! Believe in Universe and Music power, and join our SpicyNation ;)
Follow SpicyBlondZ in social networks and don't forget to VOTE for SpicyBlondZ at top100djanes.com! One week left! The end of the Poll is the 5th, November!