You are here
Sama' Abdulhadi launches RESILIENCE platform with two free events in Beirut
Special Guest Richie Hawtin plus Sama' All-Night-Long
"The gun took from us the land of the poem and left us with the poem of the land
In his hand he holds earth and in our hands we hold a mirage."
Mourid Al Barghouti (Palestinian poet & writer, 1944-2021)
International techno luminary Sama' Abdulhadi from Palestine is launching her own platform for underground music with the announcement of Resilience – a free party over two consecutive nights in Beirut to raise money for the beleaguered people of Lebanon.
 
"This mirage is the reason we grind our teeth and hold our ground… it's in hope for a better tomorrow," says Abdulhadi, in her statement to launch the concept.
 
Although Beirut is considered an essential stopping point for artists in the SWANA region and an integral scene on the global circuit, clubs and events can often break the bank for local techno fans, who have been in the throes of Lebanon's ongoing liquidity crisis since 2019, further exacerbated by the fatal Port of Beirut explosion which crippled local culture.
 
The two free events take place at the newest club in the town - Recess. The opening night on Saturday, April 29 sees Abdulhadi bring in electronic music pioneer and innovator Richie Hawtin back to the city for the first time since 2017. She also takes an all-night slot the following evening, April 30.
 
Thematically, the concept of Resilience, a characteristic of the entire region, will include artists that are in solidarity with Beirut's own struggles.
 
"Resilience is about finding the strength within ourselves to keep going, even when everything around us seems to be falling apart" explains Abdulhadi. "It's about having hope in the midst of despair and finding joy in the small things that bring us comfort and peace."
 
Resilience is designed to be a global platform established for artists and creatives to share their stories and artworks that depict experiences of marginalisation, displacement and oppression. The platform aims to create a space for expression and advocacy, where artists can tell their stories and amplify the voices of individuals and communities often ignored in mainstream narratives.
 
"For the people in The Middle East region, resilience is a necessity," Abdulhadi continues. "We have lived through war, displacement, and corruption. We have been pushed to our limits, but refuse to give up. We are fighting for a better future for ourselves.
 
Resilience is not just about survival, it's about refusing to accept the status quo. It's about recognizing our own power and using it to bring about change. Through Resilience, we hope to create a safe and inclusive space for all those who have been affected by adversity to come together, share their stories and find support. We believe that art and music have the power to heal, inspire and bring people together, and we hope to use this platform to showcase the work of talented artists who are fighting for a better world.
 
This opening Resilience event was made possible through a fundraiser previously coordinated by Abdulhadi called Bring Back Beirut, which began in the capital in early 2022 at The Ballroom Blitz where Abdulhadi performed at an impromptu all-nighter with local artists. The series was followed by events at Paris' Sacre and London's Phonox. All artists at the Resilience events in Beirut are performing for costs only.
 
Below is a further message Sama' Abdulhadi wrote to announce Resilience:
 
"To everyone out there. Let's come together and support the people of Beirut during this difficult time. We want to create a space where people can come together, forget their troubles and just dance, give back to the community and show them that even in the darkest of times, there is still hope and joy to be found. We believe that music has the power to heal, unite and uplift and that's exactly what we want to do through these parties.
 
Your contribution, big or small, will make a difference to make this happen. Together, we can help bring joy and hope back to the resilient people of Beirut. Let's dance for a cause! We are hoping to raise funds for the reconstruction efforts in Beirut." Click on the link below to contribute to this amazing event.
 
There will be an event-specific t-shirt sale with its profits dispersed locally through SIDC, a Lebanese Non profit civil society organization that is working towards building an inclusive society free of stigma and discrimination at the national and regional level. SIDC provides HIV/STIs, Harm Reduction and Mental Health support services.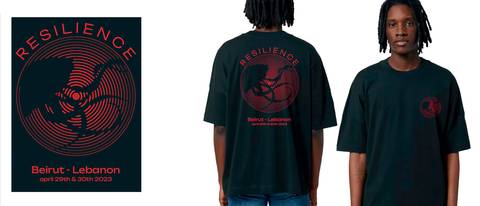 Important Ticket Information:
 
To attend Resilience Beirut you must create an account and register through https://ihjoz.com/events/6989. Registration submissions will be chosen via a random generator and selected users will receive an email from ihjoz.com with their free tickets. It is advised that people wanting to attend come early as doors will close at capacity. Management reserves the right of admission.
 
Note to Editor:
 
Boiler Room's 2018 broadcast from Ramallah, Palestine, catapulted Sama' Abdulhadi into a household name among international techno fans. Her 58-minute set clocked over eleven million views to date, an achievement shared by a very small group of DJs, all the more impressive for a Palestinian DJ who was virtually unknown outside the region.
 
Abdulhadi - comes to Resilience fully charged. Last year, she played bucket list sets at Coachella, Glastonbury, Fusion, Circoloco, Lost Village, Primavera, Exit and Boom. She hosted a sold-out Friday's At Phonox residency in London in January this year. She also collaborated with Tom Morello from Rage Against The Machine on a track for his latest solo album.
 
 #ResilienceBeirut