You are here
Tomorrowland: 2017 theme and ticket info revealed
Following its pre-registration date announcement, the world's biggest dance festival Tomorrowland has revealed this year's theme and ticket details.
The Belgian festival is returning on July 21-23 and July 28-30 with the official theme Amicorum Spectaculum, which translates into something along the lines of "friends' spectacle" or "a spectacle for friends" in English. Do forgive our Latin illiteracy.
The first poster, hand-lettered and vintage-looking, released today hints where the festival might be going for aesthetic-wise: a Victorian carnival-inspired "spectaculum".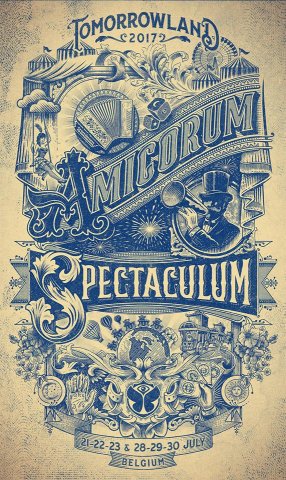 There are many ticket types available this year as per usual. Those not planning to camp overnight can get a weekend Full Madness Pass or single-day pass, both come with varying VIP or "comfort" options.
Soon-to-be happy campers can look forward to staying in DreamVille, a vibrant camping site unique to Tomorrowland. Visitors can choose everything from bringing their own tent (Magnificent Greens Packages) to having a glamped-up cabana waiting for you (Cabana Packages).
To see all packages in detail, visit Tomorrowland's official website - https://www.tomorrowland.com/